4th Swiss Open Cultural Data Hackathon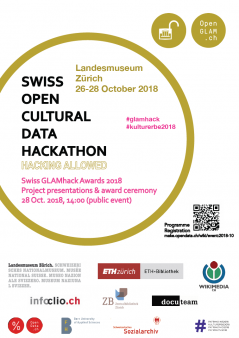 The fourth Open Cultural Data Hackathon will take place on 26-28 October 2018 at the Swiss National Museum in Zurich.
This Hackathon introduces a couple of novelties. For the first time, #GLAMhack2018 is hosted by a museum, and there will be a focus on creating software or artefacts that engage an audience. Secondly, the two hackathon days are followed by a public project presentation event on Sunday afternoon, where visitors will have the possibility to test the products and to meet their creators. Symbolic prizes to the best projects in several categories will also be awarded.
You can find more information on the Hackathon Webpage or register before the 30th September.
Organised by:
OpenGLAM CH Working Group of the opendata.ch association
Additional event information